Yaz Summer Blast
presented by the City of Yazoo City
July 5 – July 7, 2019
Free Admission • No Glass • No Coolers • No Tents
Yaz Summer Blast
Soulful Vibes
July 4th Celebration
7 PM Nightly • Fireworks Nightly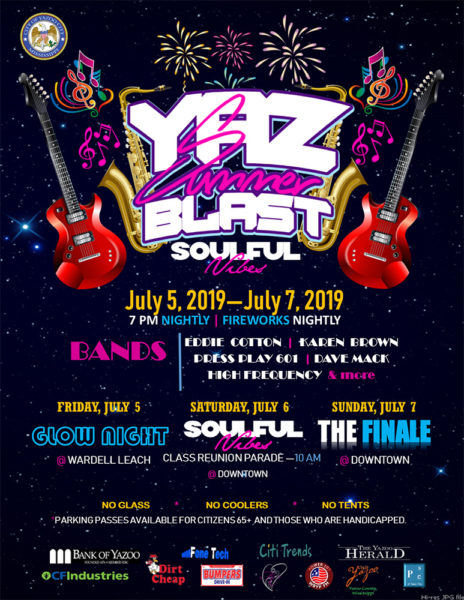 Featured Bands:
Eddie Cotton
Karen Brown
Press Play 601
Dave Mack
High Frequency
& more!
Friday, July 5
Glow Night beginning at 7 pm at Wardell Leach Recreational Complex
Saturday, July 6
Class Reunion Parade at 10 am through downtown
Soulful Vibes beginning at 7 pm downtown
Sunday, July 7
The Finale beginning at 7 pm downtown
Parking Passes are available for handicapped and citizens 65+ from the City of Yazoo City 
Yaz Summer Blast 4th of July Parade will be July 6, 2019, at 10:00 am. Sign up to be a part of the festivities today! Entry Form: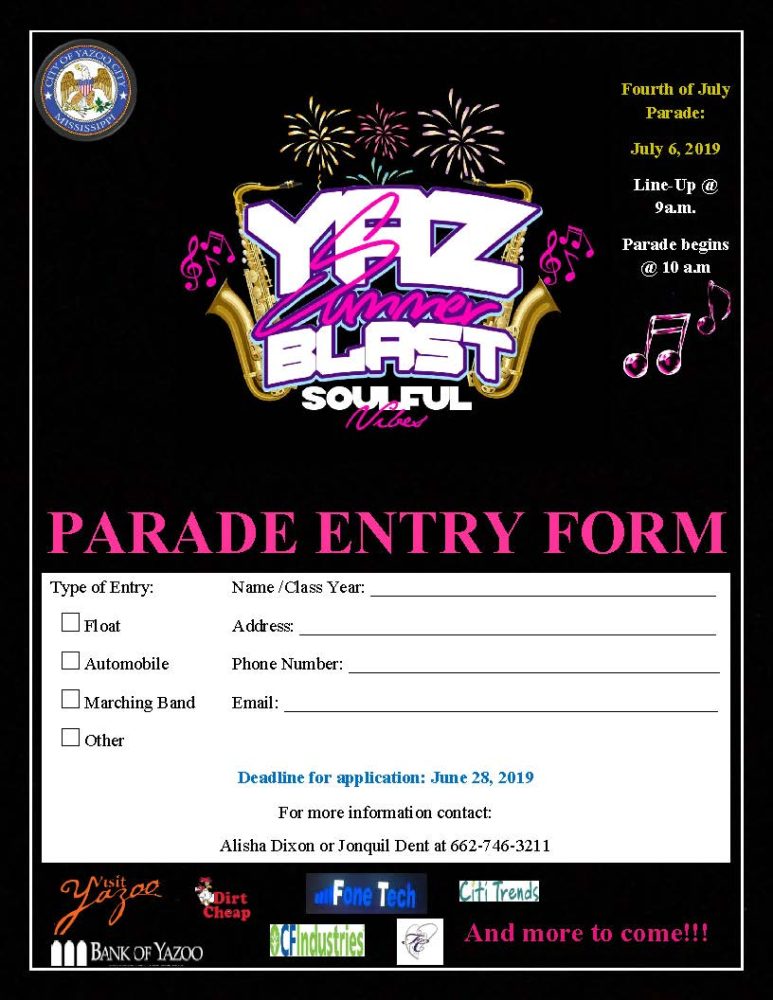 Yaz Summer Blast is presented by the City of Yazoo City and sponsored by Bank of Yazoo, Fone Tech, Citi Trends, The Yazoo Herald, CF Industries, Dirt Cheap, Bumpers Drive-In, Power 107 FM WBYP, Public Service Commission of Yazoo City, the Yazoo County CVB (Visit Yazoo) and others.
Past events have brought visitors from all over the country, including visitors from Jackson, MS; Oxford, MS; Chicago, IL; Washington, DC; Dallas, TX; Miami, FL; Los Angeles, CA; Houston, TX to name a few. The Yaz Summer Blast is fast becoming the place to be during the fourth of July in Mississippi. Come enjoy the "Soulful Vibes" with us. The celebration awaits you!