The Editors of ConventionSouth magazine, a national multimedia resource for planning events that are held within the South, have officially announced their 2014 list of the "South's Top Cities For Music & Meetings." This inaugural list was compiled by ConventionSouth's editorial team in order to showcase to meeting planners some of the best cities in the South to hold their events-all while experiencing a vibrant music scene. A total of 20 cities from 15 states in the U.S. South were selected – and the Mississippi Delta Region, including Yazoo County, is one of them!  Y'all come see us!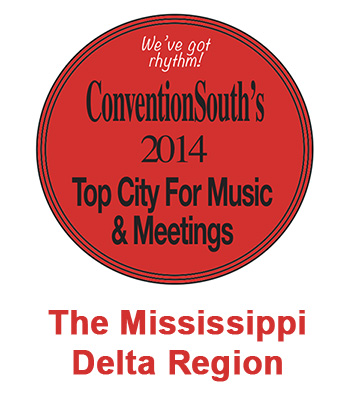 "Meeting Planners and event organizers from across the country look for unique destinations in the South to hold their meetings and events, and ConventionSouth's 2014 list of the 'South's Top Cities For Music & Meetings' provides these planners with interesting insight on some of the South's most alluring cities for musical fun," said ConventionSouth Editor Marlane Bundock. "Cities with a rich musical heritage and vibrant music scene bring an added layer of excitement to a meeting or event. This allows meeting planners to create unique themes during their events, infuse upbeat rhythms to their events, and increase attendance and attendee engagement. By adding the element of music to an event, meeting planners create a more memorable experience for attendees and therefore, increase the success of the gathering."
ConventionSouth's editorial team researched cities throughout the South and selected the following list of 20 cities based on several factors, including their musical heritage, musical venues & attractions, meeting venues and accommodations for groups. The October Issue of ConventionSouth will share this list with meeting planners from across the country that book meeting sites in the South. Cities appear in alphabetical order by city, county or region.
Asheville, North Carolina
Athens, Georgia
Austin, Texas
Baltimore, Maryland
Bristol, Tennessee
Charleston, South Carolina
Charleston, West Virginia
Colbert County, Alabama
Macon, Georgia
Memphis, Tennessee
Miami, Florida
Mississippi Delta Region
Nashville, Tennessee
New Orleans, Louisiana
Owensboro, Kentucky
Richmond, Virginia
Spartanburg, South Carolina
Stillwater, Oklahoma
Tunica, Mississippi
Wheeling, West Virginia
ABOUT THE MAGAZINE: Celebrating 30 years as a leading meeting planning resource, ConventionSouth magazine is based in Gulf Shores, Ala., and is circulated to more than 18,000 meeting professionals located across the country that book meetings held within the South, according to Bundock.