Art • Book Signing • Ballet • Music
Friday, May 6, 2022 – 6:00 pm – 10:00 pm
Saturday, May 7, 2022 – 10:00 am – 5:00 pm
Triangle Cultural Center
Main Street, Yazoo City, Mississippi
Yazoo's Celebration of the Arts
Event Information
The Triangle Cultural Center in conjunction with the Yazoo Arts Council presents "Celebration of the Arts"
Opening night Friday, May 6, 2022, 6pm – 10pm
• Reception 6 pm – 7 pm – Hosted by Chef Ryan Betz, Cypress Bread Company & Yazoo Arts Council
• Art Exhibit – Mississippi Oil Painters Association
• Book Signings – Yazoo, Delta, and Mississippi Authors including:
Dale Beasley, Hank Burdine, Bob Neill, Lynn Oldshue, Brianna McField, Teresa Nicholas, Jerry Helfrich, Paul Brown, Steve Robertson, Darral Williams, Dennis J. Perkins, Melody Golding
"A Tribute to Louis Armstrong" featuring Kimble Funchess
May 6, 2022, 7:30 pm in the Triangle Auditorium
Tickets are required for this performance; proceeds benefit the Yazoo Arts Council's community programs.
*Additional donations are tax-deductible.*
$15 Adults, $5 Students & Seniors
For tickets call 662-746-7776
Saturday, May 7, 2022, 10 am – 5 pm
• Art Exhibit – Mississippi Oil Painters Association
• Book Signings – Yazoo, Delta, and Mississippi Authors
• Ballet Performance – "Dancing to the Music of Broadway" by the Yazoo City School of Dance
• Tours – Anderson Art Studio & Gifts, Dennis Heckler Fine Art Studio & Gallery, Mississippi Delta Barn Quilt Trail Studio, Sam Olden Yazoo Historical Society Museum, Antique Toy & Tool Exhibit, Ricks Memorial Library, Henry Herschel Brickell Memorial Yazoo Literary Walkway
• Food Trucks and Entertainment on the Triangle grounds
Event Location
Triangle Cultural Center, 332 N Main Street, Yazoo City, Mississippi
Visual art exhibits, gallery and studio tours, barn quilt exhibit, and more.
Book signings, literary walkway tours, library tours, and more.
Ballet performance, Armstrong tribute, musical entertainment on the grounds, and more.
FOOD TRUCKS
A selection of food trucks will be serving on the Triangle grounds; Pricing varies by vendor.
Tickets to "A Tribute to Louis Armstrong" are $15 Adults, or $5 Students & Seniors.
Proceeds will support the Yazoo Arts Council's community events. Additional donations are welcome.
Admission to all other events at Celebration of the Arts is FREE!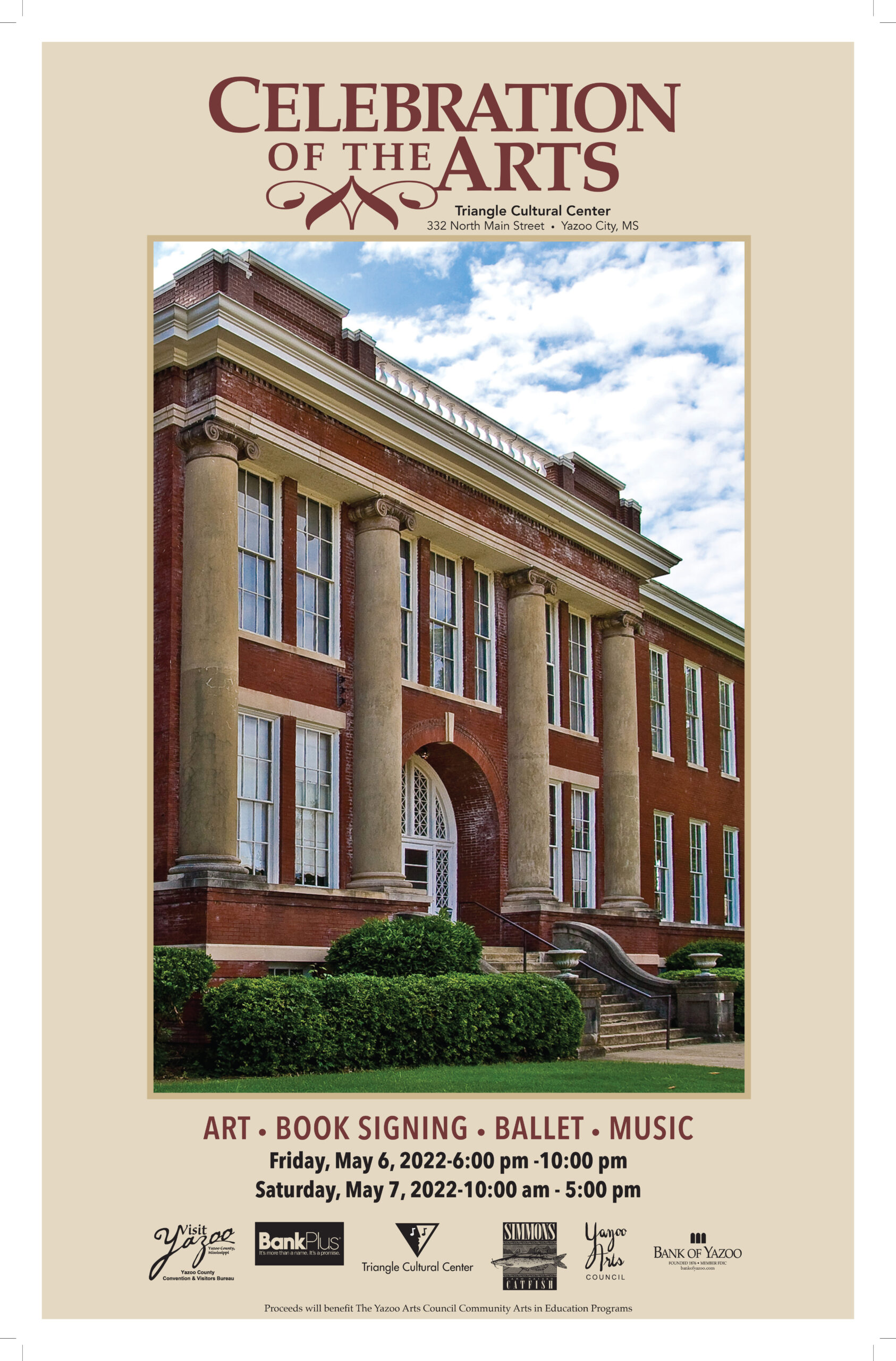 Celebration of the Arts is sponsored by:
Yazoo County CVB (Visit Yazoo)
Bank Plus
Simmons Catfish
Triangle Cultural Center
Yazoo Arts Council
Bank of Yazoo