Yazoo Music Festival 2019
Yazoo City will be filled with live music on Saturday, September 14, 2019! Save the date! Mark your calendars now and make your plans to be in Yazoo!
Be sure to visit our event page on Facebook. Click here to let your friends know you are going to be there!
Yazoo Music Festival is back for year two, this time in the heart of Yazoo City, Mississippi, at the Yazoo County Fairgrounds! On September 14, 2019, the second Yazoo Music Festival will take place. Admission to this professionally-produced event IS STILL FREE!!
Stay tuned for line-up information, coming SOON!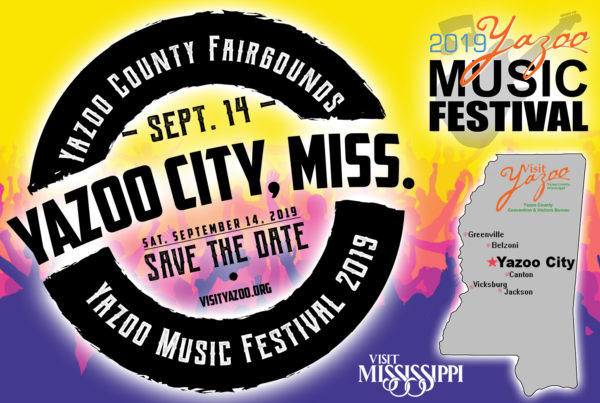 This festival will present a great mix of artists from a variety of musical genres including R&B, Blues, Jazz, Rock, and Soul to celebrate Yazoo County's rich contribution to the fabric of today's music. Festival-goers will experience live performances from a professional stage in a safe and controlled environment inside the Yazoo County Fairgrounds, satisfying their senses with an enticing lineup, quality sound, delectable food and an engaging ambiance on the edge of the world-famous Mississippi Delta!
Tell your friends and make your plans now to attend! For area hotel information, be sure to check out www.visityazoo.org/lodging.
No Coolers. No Tents. No Glass. Bring your lawn chairs or blankets and enjoy the show!
Attention Merchandise vendors and Food Trucks!
Become a vendor at Yazoo Music Festival on September 14, 2019! Download the application below and return to us ASAP!
2019YMF_MerchandiseFoodVendorApp
Sponsorship opportunities are available! Don't miss this opportunity to engage with our audience and show your community pride! Contact Yazoo County CVB to discuss sponsorship options.
Yazoo Music Festival is presented by the Yazoo County Convention & Visitors Bureau and sponsored in part by Visit Mississippi.