Yazoo County Fair
Celebrating Our 90th Year!
October 12 – Oct 20, 2018
The Yazoo County Fair, since 1928, celebrates its 90th Annual Event in Yazoo County in 2018! The Yazoo County Fair Association has lots of special 90th-Anniversary fun planned for their visitors this year, including Free 90-year balloons, a limited edition 90th-anniversary t-shirt that will be available for purchase, and a petting zoo! All three matinee open times during the 2018 Yazoo County Fair will include a petting zoo for even more kid-friendly fun!
Known as the second-oldest county fair in Mississippi, admission price includes FREE parking and unlimited rides on all rides!  With lots of rides, fun, games, food, local art and canning exhibits, and more, the Yazoo County Fair is a great way to enjoy fall in Mississippi with the whole family. Make your plans now to attend.  We'll see you at the fair!
For more information, visit the official Yazoo County Fair page on Facebook!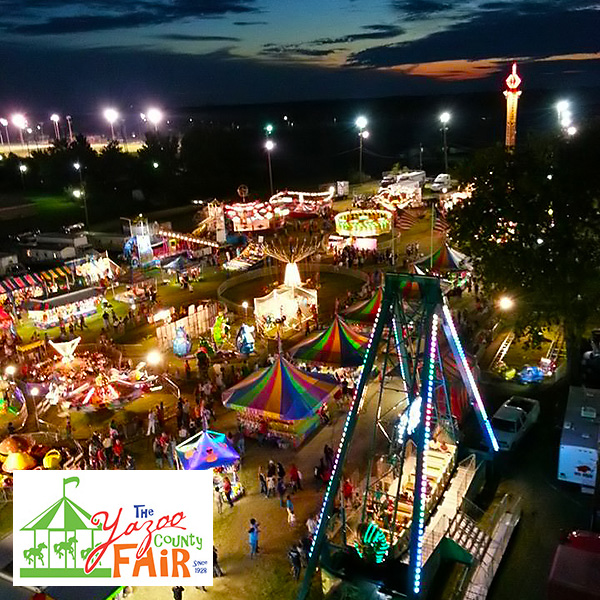 2018 Yazoo County Fair
120 Hugh McGraw Drive (aka Airport Road)
Yazoo City, Mississippi
Dates – October 12 – Oct 20, 2018
As ALWAYS FREE PARKING
Monday -Thursday 6pm-10pm $10
Friday & Saturday 6pm-11pm $12
Saturday Matinee 11am-3pm $8
Sunday Matinee 1pm-5pm $8
Under 30″ Free Admission
Senior Citizens 60+ $1 Admission
FREE PARKING FOR ALL DATES AND TIMES!
Admission Price includes Unlimited Rides on ALL RIDES!









Event of the Year – Yazoo County Fair, accepted by the McGraw family