Yazoo County Fair
The Yazoo County Fair Association would like to thank all our guests for the continuous support for the last 91 Years. It is with a heavy heart that we must announce that the 2020 Yazoo County Fair has been cancelled.

After exhaustive effort and considerable thoughts and prayers the Yazoo County Fair Association believes this decision; although a tough one is the best decision for all parties involved.

Again, thanks for all the support through many years and look forward to the 2021 Yazoo County Fair to be the Biggest and Best One Ever.

Sincerely,
Yazoo County Fair Association
The Yazoo County Fair, since 1928, celebrates its 92nd Annual Event in Yazoo County in 2020! Known as the second-oldest county fair in Mississippi, the admission price includes FREE parking and unlimited rides on all rides!  With lots of rides, fun, games, food, local art and canning exhibits, and more, the Yazoo County Fair is a great way to enjoy fall in Mississippi with the whole family. Make your plans now to attend.  We'll see you at the fair!
For more information, visit the official Yazoo County Fair page on Facebook!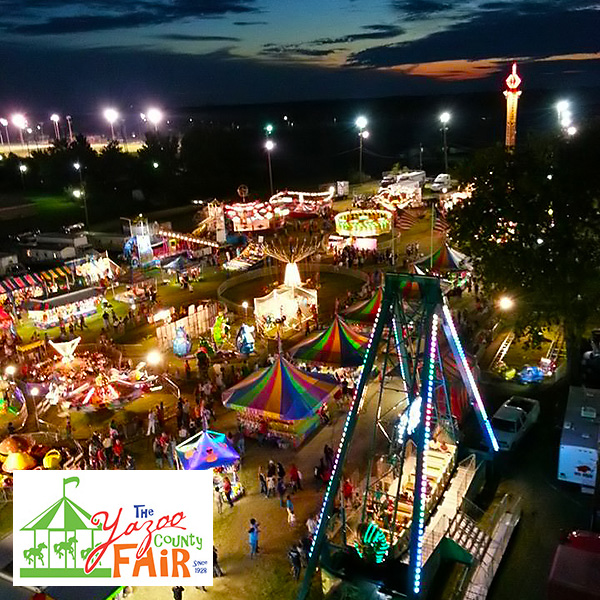 2020 Yazoo County Fair
120 Hugh McGraw Drive(aka Airport Road)
Yazoo City, Ms
Dates October 16 – October 24, 2020
As ALWAYS FREE PARKING!
Hours and admission prices TBA soon.
Admission Price Includes Unlimited Rides
Free Parking For All Dates and Times
After Matinees the Fair Closes till the next session







Event of the Year – Yazoo County Fair, accepted by the McGraw family