Yazoo Music Festival 2018
Main Street in Yazoo City will be filled with live music on Saturday, October 6, 2018! Save the date! Mark your calendars now!
Be sure to visit our event page on Facebook. Click here to let your friends know you are going to be there!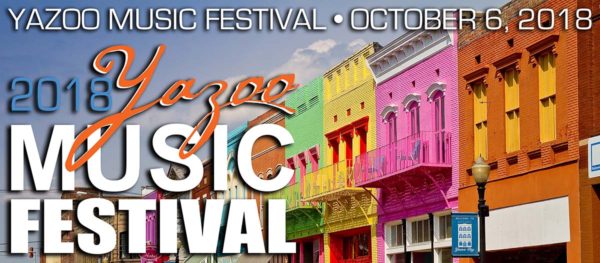 Join us! Enjoy FREE live music by:
Jimmy "Duck" Holmes
Truck Patch Revival
Anissa Hampton
Southern Komfort Brass Band
Tawanna Shaunte
Mr. Sipp " The Mississippi Blues Child "
DanI
Johnny Rawls
Gary "Lil G" Jenkins of the R&B group Silk
Ms. Jody
Sir Charles Jones
Check out this Yazoo Music Festival 2018 playlist on Spotify!
This slideshow requires JavaScript.
On October 6, 2018, the first Yazoo Music Festival will take place on colorful Main Street in historic downtown Yazoo City. Admission to this professionally produced event will be FREE! This brand new festival will present a great mix of artists from a variety of genres to celebrate Yazoo County's rich contribution to the fabric of today's music. Festival-goers will experience live performances from a professional stage on Yazoo City's historic and colorful Main Street, satisfying their senses with an enticing lineup, quality sound, delectable food and an engaging ambiance!
This will be an alluring event complete with high-quality vendors including the Yazoo County CVB (VisitYazoo) whose booth will encourage further exploration of Yazoo City and County. Depending on interests, visitors can see iconic downtown landmarks, Mississippi Blues Trail markers, enjoy recent changes made to beautify the area as they walk to the festival in Downtown Yazoo City, and more! Come snap your fingers and pat your feet and swing to the rhythm of the beat at the first Yazoo Music Festival in downtown Yazoo City on October 6, 2018!
Downtown Yazoo City is Colorful, Authentic, and Unique… just like You!
Yazoo Music Festival Stage Schedule
October 6, 2018
Main Street
Yazoo City, Mississippi
3:00 – Jimmy "Duck" Holmes
3:40 – Truck Patch Revival
4:25 – Anissa Hampton
5:10 – Southern Komfort Brass Band
5:55 – Tawanna Shaunte
6:40 – Mr. Sipp
7:30 – DanI
8:15 – Johnny Rawls
9:15 – Gary "Lil G" Jenkins
10:00 – Ms. Jody
11:00 – Sir Charles Jones
Attention Merchandise vendors and Food Trucks! Become a vendor at Yazoo Music Festival 2018 on October 6, 2018! Click Here to download our Vendor Consideration Form to let us know you are interested!
Sponsorship opportunities are available! Don't miss this opportunity to engage with our audience and show your community pride! Download a sponsorship packet here (PDF format). 
Yazoo Music Festival is presented by the Yazoo County Convention & Visitors Bureau