Yazoo Holiday Shuffle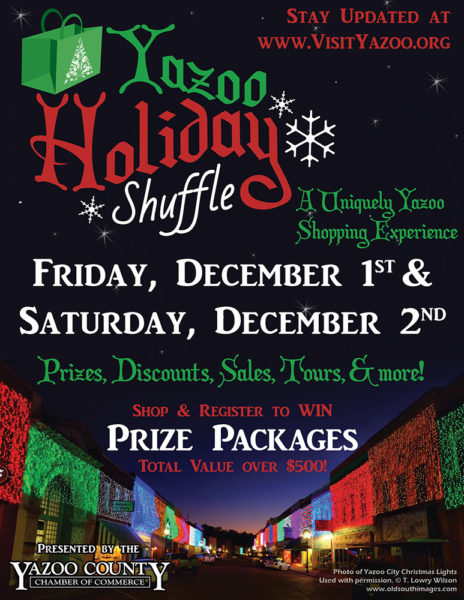 presented by the Yazoo County Chamber of Commerce
When: Friday, December 1 & Saturday, December 2, 2017
Time: Regular business hours at each location
Enter to WIN at each participating location both days! The drawing will be held on Monday, December 4th LIVE on the Yazoo County Chamber of Commerce and Visit Yazoo Facebook pages! 
The Yazoo County Chamber of Commerce presents a new Christmas Shop & Win event in Yazoo County on the first Friday & Saturday in December! The Yazoo Holiday Shuffle is the perfect time to mark off your Christmas list and enter to win one of the prize packages. The total value of the giveaways for December 1st and 2nd will be over $500 and will include a variety of prizes including gift certificates, trinkets, a 2-night stay in Yazoo at the Main Street Hotel and more!
Invite your friends and family to shop Yazoo during the Yazoo Holiday Shuffle and avoid the frustration of the big-city rush. From trendy to timeless, locally crafted to nationally recognized, you are sure to find a treasure you'll love when you do the Yazoo Holiday Shuffle!
Keep up with the excitement by following the Yazoo County Chamber of Commerce and VisitYazoo on Facebook, or check back here for updates.
Click the links below to learn more about the participating locations: (Updated 12/01/17)
Downtown Marketplace
Black & White Dept. Store
The Junkyard Dog Salvage Company
Ferguson Furniture
Anderson's Jewelry
Main Street Hotel
Main Street Market
Signaturez
Tom's on Main
Vintage Hair Salon and Boutique
Bow Ties & Tutu's Children's Boutique Toy Store
Black's Fabric & Dept. Store
World Finance
Vapor Scene
Arnett Jewelry
The Yazoo Herald
Gibert's Lumber & Home Center
Grace Hardware
Gateway Tire
Schaffer & Collins Funeral Home
Deltaview Custom Design Monuments