The Yazoo Arts Council presents
Yazoo Holiday Artist Showcase
Kick off Christmas Open House weekend with an evening of art, shopping, and entertainment!
Yazoo Holiday Artist Showcase
Friday, November 9, 2018, 6 pm – 8 pm
at the Triangle Cultural Center
332 N Main Street
Yazoo City, Mississippi
Chimneyville Readers
performance at 7:00 pm
Chimneyville Readers present "A Christmas Memory"
J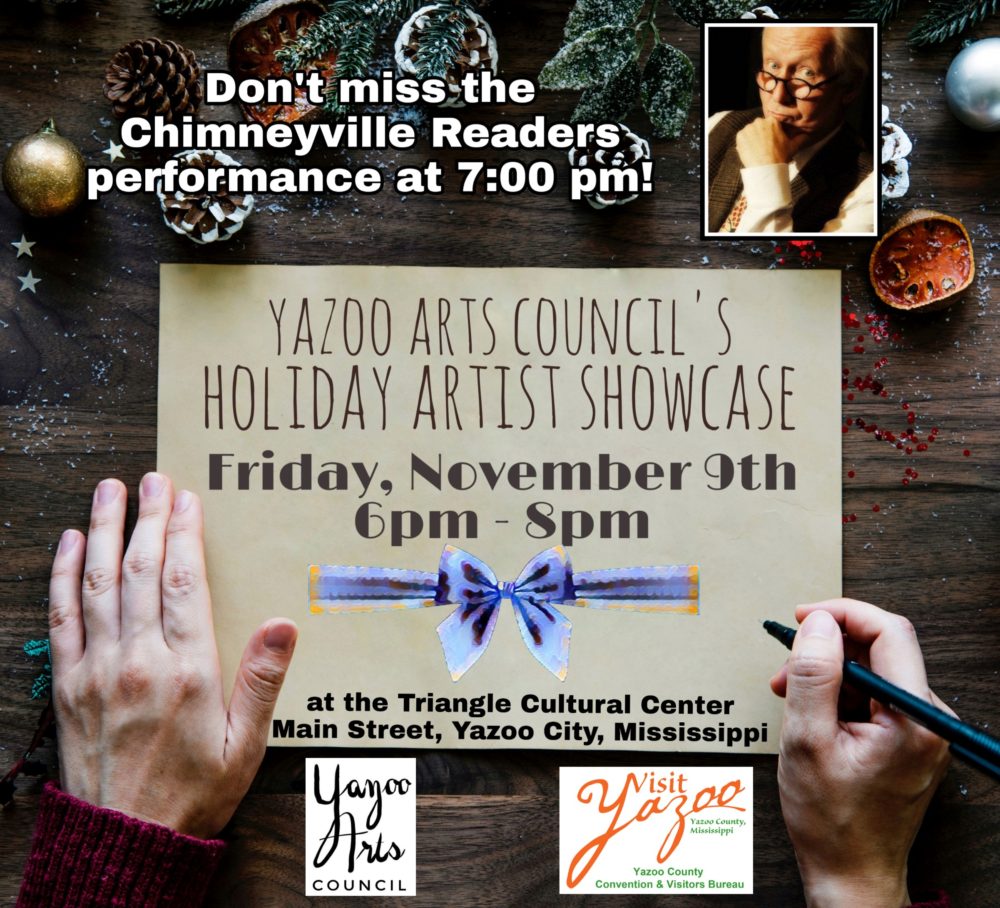 oin us Friday, November 9th at 7 pm at the Triangle Cultural Center to hear Truman Capote's "A Christmas Memory," adapted and narrated by James Anderson, featuring Jo Ann Robinson, John and Diana Howell, Betty Jo Mahaffey, and Eric Eaton.
This 30-minute family friendly reading celebrates old-fashioned Southern Christmases and the empowering joy of friendship.
You'll laugh, you'll cry, and you'll find the true meaning of Christmas. Peace!
The Yazoo Arts Council presents a Yazoo Artist Holiday Showcase, the perfect opportunity to fill your Christmas list with one-of-a-kind pieces from Yazoo County artists! These artists have assembled a collection for you with pieces ranging from stocking stuffers to statement art pieces. Event begins at 6 pm with a live performance at 7 pm.
Join the Yazoo Arts Council as we celebrate a selection of Yazoo County artists featuring works ranging from pottery to murals and more, and enjoy a Christmas performance by the Chimneyville Readers. Light refreshments will be served. Admission is free.
Featured artists include:
Peyton Carlton, Shiela Bridges, Jamie Wallace, Elise Choate, Benny Melton, Nathan Adams, and Susan Cartwright.
For more information, please visit the Yazoo Arts Council page on Facebook or call Holly at 662-746-7776.
Presented by the Yazoo Arts Council. Sponsored in part by the Yazoo County Convention & Visitors Bureau and the City of Yazoo