Social Distancing: Things to Do in Yazoo County
It is no secret that COVID-19 has had a tremendous financial impact on the Travel and Tourism industry worldwide. Yazoo County's hotels, restaurants, retailers, gas stations, non-profits, public entities, and others have been hit by reduced revenues due to travel restrictions, mandatory closures, event cancellations, and overall decreased spending due to the far-reaching financial and health impacts of the ongoing pandemic. Travelers and Tourists are being forced to cancel summer vacations and family trips to far-away places in high-traffic destinations. As many are choosing to safely explore closer to home, we want to remind you that there are soul-stirring experiences to be had here in Yazoo County, Mississippi, whether you visit us for a day, a weekend, or simply take in a scenic road trip through.
Spend some time exploring our County in ways that allow you to follow the social distancing guidelines. While you are out picking up an order from a local restaurant or retailer, take a moment to enjoy Yazoo's historic buildings and architecture. Self-guided walking or driving tours of our historic homes (PDF) and historic churches (PDF) can be followed along with on your mobile device. Outdoor activities can be enjoyed as well from one of Yazoo's many parks, the National Wildlife Refuges here and nearby, and Wolf Lake. Yazoo County is home to 5 Mississippi Blues Trail Markers and additional historic sites that you can learn more about here. There is so much to see and do safely in Yazoo.
We hope you will also take the time to follow VisitYazoo on Facebook, Instagram, and Twitter, and comment and share your support often in order to help the friends, family, and neighbors that make up our local tourism economy. Take photos and share your favorite Yazoo County places to safely eat, shop, stay, and experience with our hashtag: #visitYazoo. Yazoo County's tourism economy can survive and help bring our economy back with your help.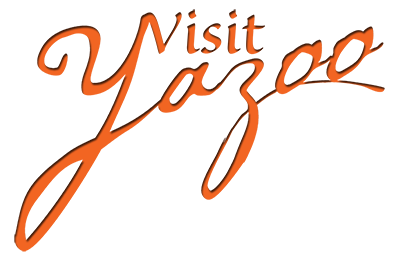 Stay up-to-date on changes in Mississippi's COVID-19 guidelines for Travel & Tourism at https://visitmississippi.org/covid-19-travel-alert/
Information regarding COVID-19 and travel from the Mississippi Tourism Association can be found at https://mstourism.com/covid-19-resources/
Updated information on the COVID-19 pandemic can be found on the following websites:
The Mississippi State Department of Health is now operating a hotline for convenient answers to questions about COVID-19 by phone. Mississippi Coronavirus Hotline is open 8 a.m. – 5 p.m., Monday through Friday: (877) 978-6453.
Note: This site is meant to serve as a general guide and is guided by recommendations from public health and CDC travel official sources. Individuals should use common sense when making decisions about travel and follow the available guidelines of those sources.
On July 1, 2020, the City of Yazoo City issued an ordinance requiring masks or facial coverings to be worn in public buildings, or outdoors if social distancing cannot be maintained. For more information visit http://www.cityofyazoocity.org/covid-19-updates/
Yazoo County: Travel Close to Home
July 1, 2020