Yaz Summer Blast
presented by the City of Yazoo City
June 29 – July 1, 2018
Free Admission • No Glass • No Coolers • No Tents
Yaz Summer Blast "Moves & Grooves" July 4th Celebration
7 PM Nightly • Fireworks Nightly
Bands:
Bridget Shields
Henry Rhodes
Mike Rob
Dr. D
Eddie Cotton
& More!
Friday, June 29
7:00 pm – Wardell Leach Park
Glow Night
Saturday, June 30
10:00 am – Class Reunion Parade (Download Entry Form)
7:00 pm – Downtown Yazoo City
"Moves & Grooves"
Sunday, July 1
7:00 pm – Downtown Yazoo City
The Finale
Yaz Summer Blast Moves & Grooves Scavenger Hunt
Starts: Friday, June 29, at 10:00 am
Ends: Sunday, July 1, at 5:00 pm
The list will be posted at 128 E Jefferson Street. Must provide proof of each of 10 items required. A tented area will be set up on Main Street during Yaz Summer Blast to show proof. Winner to be announced at 7 pm on July 1st.
Grand Prize:
Flat Screen Television
For more information, call 662-746-3211
Don't miss a minute of the FUN! This is a weekend that no one will want to miss. Come out, enjoy and have a SUMMER BLAST in Yazoo City!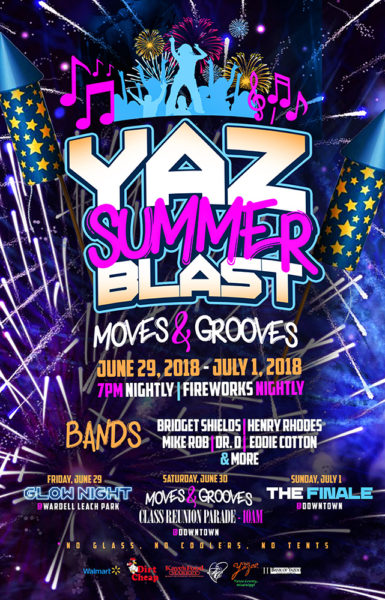 The City of Yazoo City and its cultural and business sponsors are hosting the 4th Annual Yaz Summer Blast event during the weekend of June 29th – July 1st, 2018. This year's event theme "Moves and Grooves", is intended to inspire thoughts of dancing, laughter and family fun.
Friday, June 29th is Glow Night in Wardell Leach Park and will feature games, food, music and more surprises for the whole family. On Saturday, June 30th at 10 a.m. the annual Class Reunion Parade will be held in downtown Yazoo City. Classes show off their "Moves and Grooves" through floats, cars, entertainment and other fun ways. Saturday & Sunday night beginning at 7:00 p.m. downtown on Main Street there will be food vendors, arts & crafts, and live music to inspire all ages of citizens to get in the Yaz spirit. A spectacular display of professional fireworks each night continues to make Yazoo City unrivaled in its firework exhibition across Mississippi.
Past events have brought visitors from all over the country, including visitors from Jackson, MS; Oxford, MS; Chicago, IL; Washington, DC; Dallas, TX; Miami, FL; Los Angeles, CA; Houston, TX to name a few. The Yaz Summer Blast is fast becoming the place to be during the fourth of July in Mississippi. Come show off your "Moves and Grooves" with us. The celebration awaits you!
Yaz Summer Blast is sponsored in part by the Yazoo County Convention & Visitors Bureau