Songbird Academy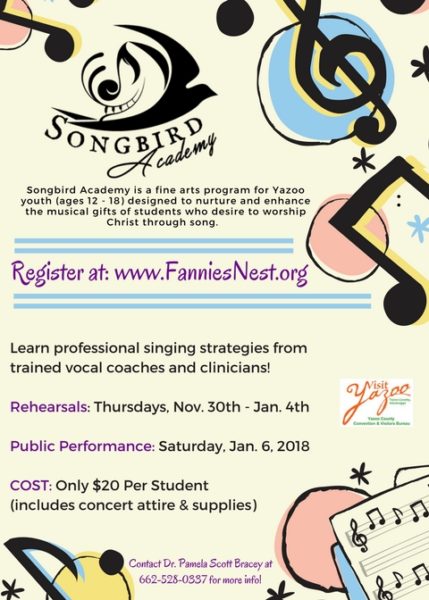 presented by Fannie's Nest, Inc.
Calling all Yazoo area middle and high school students who love to sing! Songbird Academy is now accepting participants.
Songbird Academy is a fine arts program for Yazoo youth (ages 12-18) designed to nurture and enhance the musical gifts of students who desire to worship Christ through song. Register online at www.FanniesNest.org
Learn professional singing strategies from trained vocal coaches and clinicians!
Rehearsals: Thursdays, November 30, 2017 – January 4, 2018
Public Performance: Saturday, January 6, 2018
Cost: Only $20 per student (includes concert attire & supplies)
Adult Volunteers are needed as well. Contact Dr. Pamela Kay Bracey at 662-528-0337 for more information.
Sponsored in part by the Yazoo County Convention & Visitors Bureau