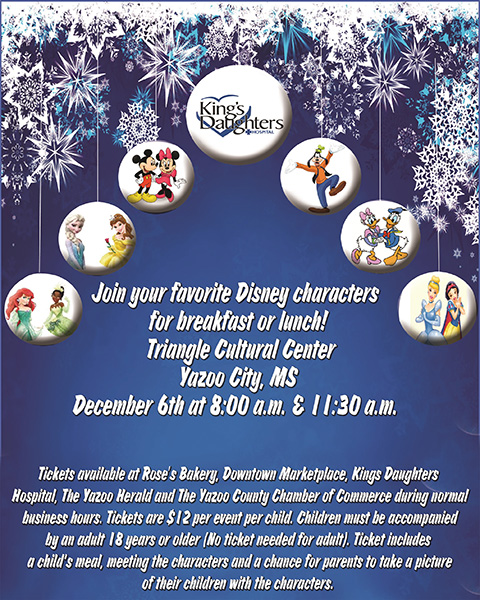 Name: KDH Disney Christmas Event with Mickey Mouse, Friends, and Princesses
Date: December 6, 2014
Time: 8:00 AM – 12:00 PM CST
Event Description:
King's Daughters Hospital request your presence to join in a magical morning with food and fun with Disney Characters from the Mickey Mouse Clubhouse and Disney Princesses!
Tickets are $12 per child and are available at Rose's Downtown Bakery, Downtown Marketplace, Kings Daughters Hospital, the Yazoo Herald, the Yazoo County Chamber of Commerce during normal business hours. Children must be accompanied by an adult 18 years or older. ( No ticket needed for the adult) Tickets include a child's meal, meeting the character, and a chance for the parents to take a picture of their children with the characters.
Location:
Triangle Cultural Center
332 North Main Street
Yazoo City, MS 39194
Date/Time Information:
Saturday, December 6, 2014

Breakfast Tickets 8:30 a.m.
Lunch Tickets 11:30 a.m.
Fees/Admission:
Tickets are $12 per child –
Ticket includes breakfast or lunch and opportunity to meet and greet with characters.
For more information, visit www.YazooChamber.com or call the Yazoo County Chamber of Commerce at 662-746-1273