Jerry Clower Festival 2018
The 2018 Jerry Clower Festival will be Saturday, May 5, 2018, in historic downtown Yazoo City.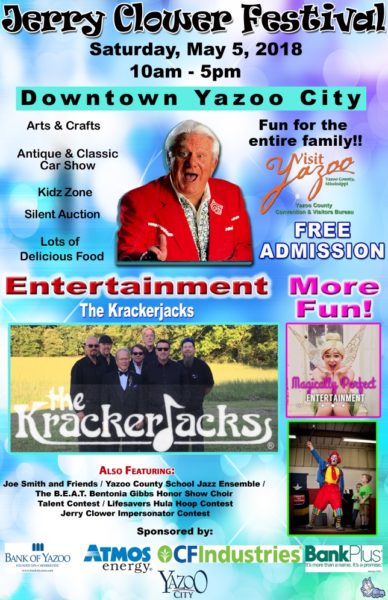 The 2018 Jerry Clower Festival features:
• Arts & Crafts
• Antique & Classic Car Show
• Kidz Zone
• Silent Auction
• Lots of Delicious Food
• LIVE Entertainment and SO MUCH MORE!
Stage Schedule:
10:00 am – Welcome – Mayor Diane Delaware
Prayer
Posting of Colors – Yazoo City ROTC
Manchester & Benton Academy Cheerleaders
10:15 am – Yazoo County School Jazz and Vocal Ensemble
11:00 am – The B.E.A.T. Bentonia Gibbs Honor Choir
12:00 pm – Talent Show
1:00 pm – Joe Smith & Friends Band followed by Ms. Juicy's Pantomime
2:00 pm – Car Show Trophies Presentation
2:30 pm – Jerry Clower Impersonator Contest
2:45 pm – Super Dads Hula Hoop Contest
3:00 pm – The KrackerJacks
Featuring
The KrackerJacks "Party Band of the South"
DOWNLOAD APPLICATIONS:
2018 Jerry Clower Festival Arts & Crafts Vendor Application (PDF format)
For additional information, please contact Brenda or Colon Johnston at 662-746-7676
Check out scenes below from past events, and make your plans now to attend!
This project is partially funded by a grant from the Yazoo County Convention & Visitors Bureau
The weekend of May 4th-5th is a great time to plan a visit to Yazoo! Check out the events below:

Friday, May 4th, 6:00 pm
John Maxwell in
"Oh, Mr. Faulkner, Do You Write?"
Tickets $15, available at select local retailers. Click here for more information.

Saturday, May 5th, 10 am-5 pm
Jerry Clower Festival
Featuring LIVE Music, Arts & Crafts, Antique & Classic Car Show, Kidz Zone fun, Silent Auction, Food Vendors, Talent Contest, Jerry Clower Impersonator Contest, Hula Hoop Contest, Magically Perfect Princesses, and more! This event takes place on colorful and historic Main Street in Yazoo City. Admission is FREE!!

Saturday, May 5th, 10 am
The Junior Auxiliary of Yazoo City in conjunction with the Yazoo Arts Council will present New Stage Theatre Arts-in-Education Touring Program's production of The Celebrated Jumping Frog of Calaveras County from the story by Mark Twain, adapted by Joseph McDonough, at the Yazoo Community Complex. Admission is Free.

For help with planning your trip to Yazoo, please contact the Yazoo County CVB (Visit Yazoo on Facebook, Instagram, and Twitter).