Join the Yazoo Historical Society for the Dedication and Grand Opening of the Governor Haley Barbour Room inside the Sam Olden Historical Museum.
Thursday, May 30th at 6:30 pm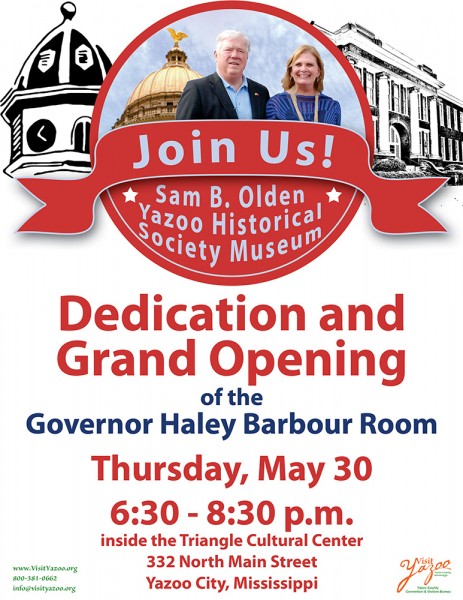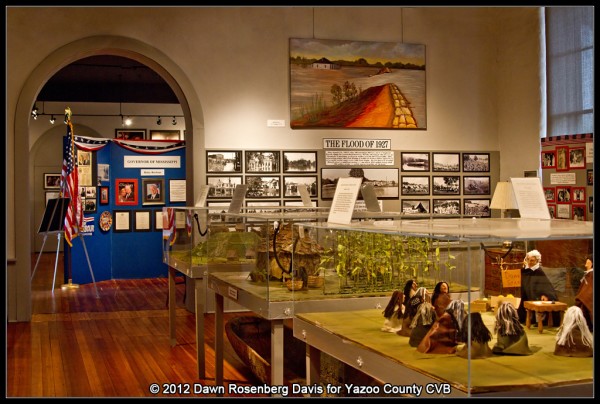 The Sam Olden Historical Museum, located in the Triangle Cultural Center in Yazoo City, brings together the County's diverse past – from fossils dating back some 45,000 years to Native American relics, Civil War History, and African-American History, to the legendary trainman Casey Jones, and so much more.
The Sam Olden Historical Museum features exhibits from Civil War days, to the great Yazoo City fire of 1904, as well as those depicting World War I, the history of the old Main Street School (now the Triangle Cultural Center), the 1927 flood, political history, items from the daily lives of Yazoo's early citizens and apparel from the early days of the County.
Also chronicled in the museum are the many famous sons and daughters from Yazoo County, including: acclaimed author of My Dog Skip, Good Old Boy, and other stories, Willie Morris; comedian and storyteller, Jerry Clower; NFL Hall of Famer Willie Brown; actress Stella Stevens; former Mississippi Congressman, Mike Espy; famed motivational speaker Zig Ziglar; Col. John George Quekemeyer, distinguished World War I soldier and aide-de-camp to General John J. Pershing; and the former Governor of Mississippi and former chairman of the National Republican Party, Haley Barbour.
At the Sam Olden Historical Museum you can take a glimpse into Yazoo County's rich heritage and culture. It's a great prelude to visiting sites of interest around Yazoo City and Yazoo County.