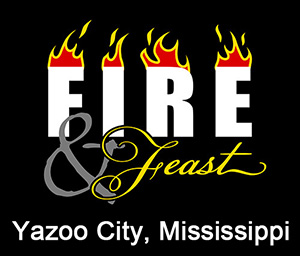 Planning has already begun for the 2013 edition of Yazoo City's newest festival – Fire & Feast BBQ Competition & Festival, September 6 & 7!  As presenting sponsors for Fire & Feast, the Yazoo County CVB, has issued an open call to local and regional artists who would like to perform in Yazoo City on September 6, 2013.  Visit www.fireandfeast.org for details on submitting your information for consideration.  Deadline is February 28, 2013.  NO PHONE CALLS
Started in 2011 by the Yazoo County CVB, the Yazoo County Fair Association, and a committee of local volunteers, Fire & Feast has grown leaps and bounds!  The event has drawn some of the Memphis Barbecue Network's top teams into Yazoo City to compete for their share of CASH PRIZES, totaling $20,000!  And, professional teams love the unique hand-forged Damascus blade knives as trophies for 1st, 2nd and 3rd places, made by Yazoo County's Bobby Rico of Rico Knives.
For more information on the event, and to stay updated, visit the official website at www.fireandfeast.org, and follow Fire & Feast BBQ Competition & Festival on Facebook and Twitter – www.facebook.com/fireandfeast and www.twitter.com/fireandfeast.  Don't miss the AWESOME video below!  That'll get you in the BARBEQUE SPIRIT!
[youtube=http://www.youtube.com/watch?v=tEOz6mOsG5c]
Want to be a part of Fire & Feast, but you're not sure how you can help?  VOLUNTEER in the name of great barbecue and the economic boost that comes from Yazoo County tourism!!
Keep it smokin'…
-Yazoo County CVB
800-381-0662
info@visityazoo.org