Sign up now for the Spring 2016 series of
Business Development Workshops
starting March 24 in Yazoo City
Presented by the Mississippi Development Authority (MDA), Northwest Mississippi Contact Procurement Center, and Community Economic Development Strategy (CEDS), this workshop series is designed to teach businesses, particularly small and/or new businesses, the practices needed to improve operations and increase capacity. The program is open to any new or existing business. Each participating company must enroll, or already be enrolled, in the Mississippi Contract Procurement Network system. A representative must attend all sessions in order to receive a Certificate of Completion.
THERE IS NO CHARGE FOR THE PROGRAM.
PRE-REGISTRATION IS REQUIRED.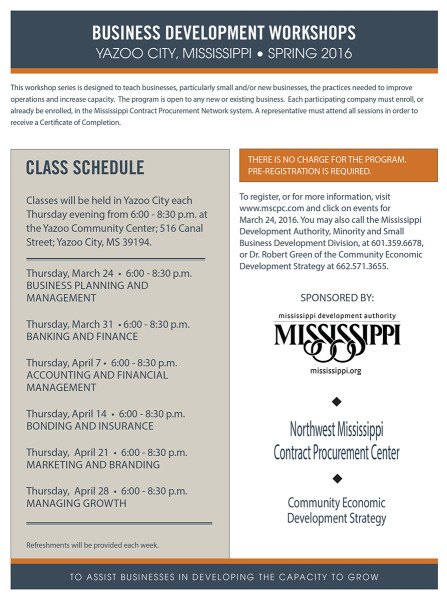 To register, or for more information, visit www.mscpc.com and click on events for March 24, 2016. You may also call the Mississippi Development Authority, Minority and Small Business Development Division, at 601.359.6678, or Dr. Robert Green of the Community Economic Development Strategy at 662.571.3655.
CLASS SCHEDULE:
Classes will be held in Yazoo City each Thursday evening from 6:00 – 8:30 p.m. at the Yazoo Community Center; 516 Canal Street; Yazoo City, MS 39194.
Thursday, March 24 • 6:00 – 8:30 p.m.
BUSINESS PLANNING AND MANAGEMENT
Thursday, March 31 • 6:00 – 8:30 p.m.
BANKING AND FINANCE
Thursday, April 7 • 6:00 – 8:30 p.m.
ACCOUNTING AND FINANCIAL MANAGEMENT
Thursday, April 14 • 6:00 – 8:30 p.m.
BONDING AND INSURANCE
Thursday, April 21 • 6:00 – 8:30 p.m.
MARKETING AND BRANDING
Thursday, April 28 • 6:00 – 8:30 p.m.
MANAGING GROWTH