Back Home Again Event
May 26-28, Memorial Day Weekend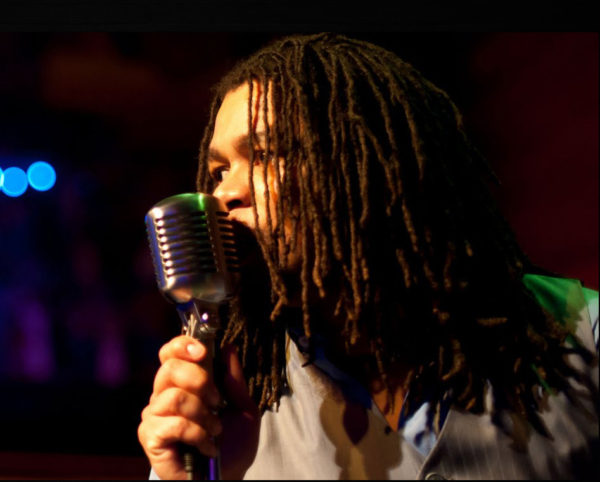 Join us for lots of FREE fun Yazoo City featuring Grammy Award-Winner Grady Champion!
3-on-3, Freethrow, 3-point, and Slam Dunk Contest
Yazoo City Olympics
Best Of Cook-Off:
Barbecue
Friend Fish
Fried Chicken
Wild Game
Cakes and Pies
Homemade Ice-Cream
Car and Bike Show
Live Entertainment Events
Kids' Talent Show
DJs
Gospel Stage
Mr. & Mrs. Back Home Again Talent Show
National Acts
FOR Yazoo Back Home Again INFO PLEASE CONTACT through the Event Page on Facebook (click to visit).
Stay tuned here and on the event page on Facebook for updates.
Back Home Again
Event Schedule
Friday, May 26, 2017 beginning at 8 pm
Mississippi Renaissance – Yazoo Night of the Arts
Art, Book Signings, Soul Damage film preview, Artist Q&A
at the Yazoo City Community Complex
516 East Canal Street
Yazoo City, Mississippi
hosted by Cyrus Webb – author, radio personality
Featuring Jamie Maximus Wright – author, director Soul Damage
Join us for an evening full of art and culture in Yazoo City including Hope Carr (artist), Andrew Fisher (author), Cassandra Leach (author), and others. Our evening culminates with the Soul Damage film preview at 10 pm.
Saturday, May 27, beginning at 8 am
Back Home Again Event
at Campanella Park
800 Dr. Martin Luther King Jr. Drive
Yazoo City, Mississippi
8 am – Yazoo Back Home Again 5K
Cook-Off Competition Begins
(Awards presented after 4 pm on the Main Stage)

8 am – Kids Zone Fun Begins
Spelling Contest (1st-3rd Grades), Space Jumps, Face Painting, Train Rides
10 a.m. – 1 p.m. – Yazoo Back Home Again Olympics and Basketball Competitions
(Awards presented after 4 pm on the Main Stage)
Basketball Contests:
Freethrow Contest
3 on 3
Slam-Dunk Contest
3-Point Shoot-out
Yazoo Olympics:
40-Yard Dash
100-Yard Dash
400-Yard Relay
High Jump
Long Jump
& More!
10:30 am – 3:30 pm – Back Home Again Gospel Revival
Sermonettes from local ministers and LIVE gospel intermissions
2 pm – 4 pm – Yazoo's "Showtime at the Apollo" and Pantomime Show
(on the Main Stage)
6:30 – 8:30 pm – Mississippi Championship Wrestling featuring Big Mike Carter, the SON of Junkyard Dog
4 pm – Back Home Again Gospel Concert featuring the Ray Brothers from Leland, MS
(On the Gospel Stage)
LIVE Gospel Performances by:
Gospel Storm – Yazoo City
Patricia Henry Peyton – Yazoo City
D'Avia Henry Peyton – Yazoo City
Terrence Freeman – Yazoo City
Shumbae Burns – Yazoo City
Miz Tiffany – Ridgeland, MS
Cornerboy Stone – Jackson, MS
Demetria Newton Bassett – Yazoo City
Harry Scott – Yazoo City
Arion "Baby" Bell – Yazoo City
Ray Brothers – Leland, MS
4 pm – 10 pm – Back Home Again Main Stage starring Grady Champion
LIVE Performances by:
BGG & Big Wood – Chicago/Yazoo City
Ziggy – Yazoo County
18K – Yazoo County
Yazoo Yella Pettway – Florida/Yazoo City
Redemption – Yazoo City
Grady – Yazoo City
Dinero X DaVinci – Yazoo City
Boosie Collins – Yazoo City
Arion "Baby" Bell – Yazoo City
Grammy Award-Winning Grady Champion – Canton, MS
Sunday, May 28, beginning at 5:30 pm
Back Home Again Fashion Show
Presented by Ora's Closet Boutique and Cupcakes & Curls
Triangle Cultural Center
332 North Main Street
Yazoo City, Mississippi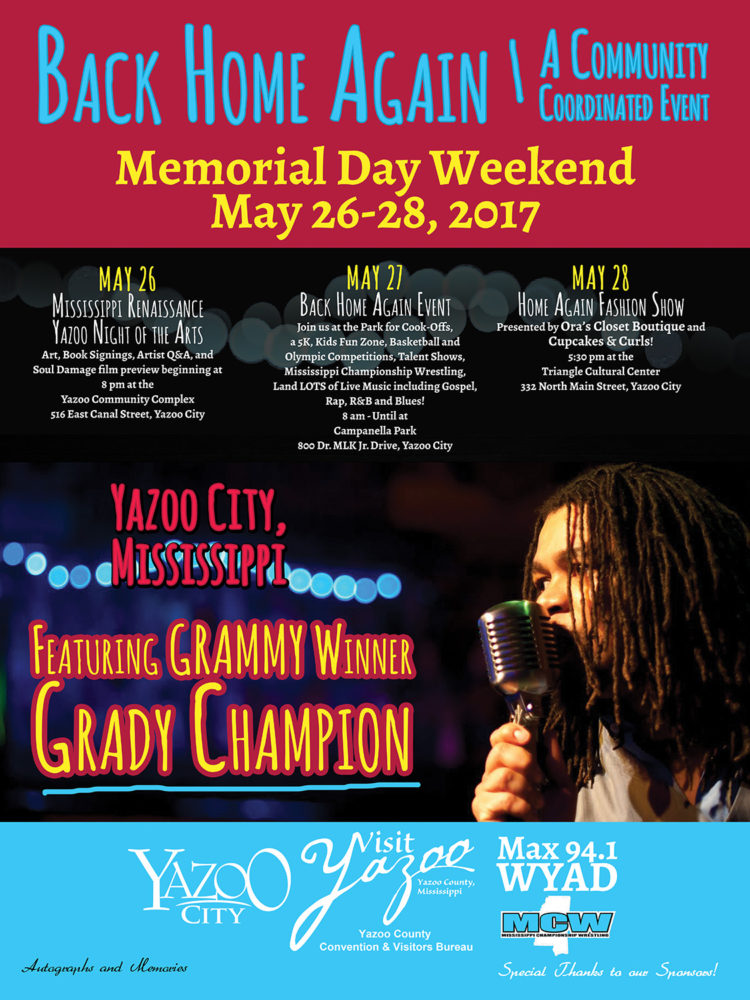 Back Home Again is sponsored in part by an Advertising and Promotions Grant from Yazoo County Convention & Visitors Bureau (Visit Yazoo).