ANTIQUE DAYS 2016
Antique Days 2016 will be Saturday, October 22, 2016, at the Triangle Cultural Center, (the Old Main Street School), 332 North Main Street, Yazoo City, Mississippi.
Enjoy the sights, sounds, and smells of fresh cane syrup cooking, a Kibbee cooking contest, free pumpkin painting for children, an antique tractor parade, FREE buttermilk biscuits with local honey or cane syrup, live music, and more good old-fashioned fun at Antique Days in historic downtown Yazoo City.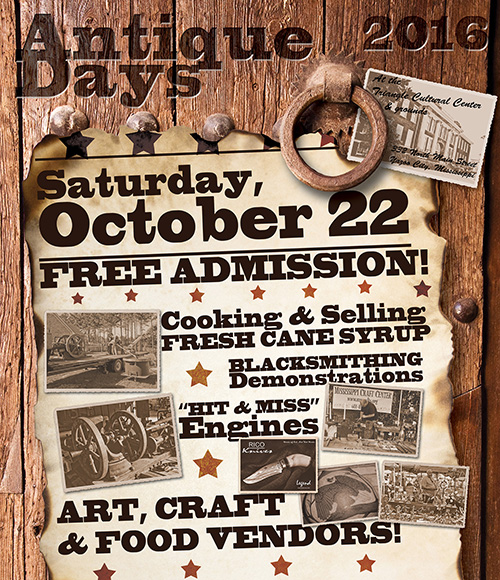 SCHEDULE:
7:00 A.M. Start crushing sugar cane
8:00 A.M. Start cooking cane syrup
8:00 A.M. Radio Flyer wagon rides will start and go till 1:00 P.M. Tickets are $2.00 per person per ride.
9:00 A.M. – 3:00 P.M. Free children's pumpkin painting begins and kids games!!!
10:00 A.M. KIBBIE Contestants must register at Registration Tent.
11:00 A.M. KIBBIE (aka KUBBIE) Cookoff~Send your entries to the judges.
11:00 A.M. Old tractor parade down Main Street.
12:00 P.M. KIBBIE WINNERS ANNOUNCED!
Carl Acuff Jr. and his Showband will perform from 2:00 P.M. to 4:00 P.M. Don't miss this major event. Bring your lawn chairs.
For more information, call 662 590-5415 or email mainantiques@cableone.net or visit www.antiquedays.com
Antique Days is sponsored in part by a Grant and an Event Sponsorship from Yazoo County Convention & Visitors Bureau