ANTIQUE DAYS 2015
Antique Days 2015 will be Saturday, October 24, 2015, from 8:00 A.M. To 4:00 P.M. at the Triangle Cultural Center, (the Old Main Street School), 332 North Main Street, Yazoo City, Mississippi.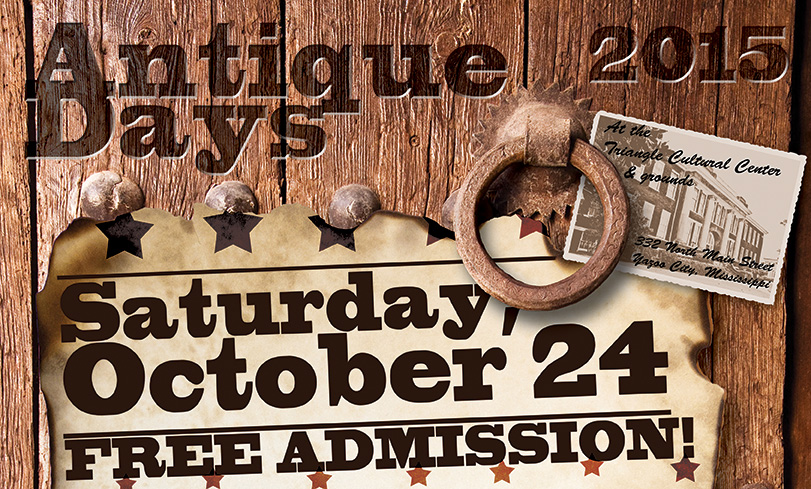 TENTATIVE SCHEDULE:
7:00 A.M. Crushing the sugar cane.
8:00 A.M. Start cooking the sugar cane.
9:00 A.M. – 3:00 P.M. Free childrens pumpkin painting begins!!!
9:00 A.M. -4:00 P.M. Old Car show. Trophies will be awarded at 3:30.
Free entertainment in front of the Triangle all afternoon.
10:00 A.M. KIBBIE Contestants must register at Registration Tent.
11:00 A.M. Old tractor parade down Main Street
12:00 P.M. KIBBIE (KUBBIE) Cookoff~Send your entries to the judges.
2:00 P.M. Mayor Delaware will announce the winner of the Kibbie competition.
4:00 P.M. Mayor Delaware will draw for the Bobby Rico knife.
Antique Days in Yazoo City, Ms. will be held on Oct. 24th, 2015 at the Triangle Cutural Center, 332 N. Main St., Yazoo City, Ms.
We need a good design for a t-shirt for Antique Days 2015. It should incorporate some things that happened at our last event, Antique Days 2014, like the old engines,making cane syrup, biscuit making, balloons, Kibbie Cookoff, and the wonderful historic buildings in Yazoo City. Submit all your entries before June 30, 2015. A prize of $200 will be awarded to the contest winner on July 1, 2015. Submit entries to:
Antique Days, P. O. Box 691, Yazoo City, Ms. 39194.
NEW THIS YEAR (2015) IN ENTERTAINMENT
(Times TBA)
Arion Bell & Friends
Jamie Isonhood
Travis Wammack & his band
ACE CANNON
SECOND ANNUAL KIBBIE COOKOFF:
The second annual KIBBIE COOKOFF starts at 10:00 A.M. on the Triangle grounds at Antique Days on Oct. 24th, 2015. Judging will be at 11:00 A.M. with prizes awarded at 1:00 P.M. Try some of Yazoo's famous Kibbie. A Kibbie Queen will be selected this year.
THE "HISTORY ON WHEELS CAR SHOW" will be another facet in 2015. A grouping of restored vehicles used for touring and life on the farm will be available for viewing. These vehicles are from the region and brought in buffed and polished to represent their heyday. Old folks will remember and young folks will scratch their head in confusion that anything like that ever existed. Trophies will be awarded. One special trophy will be from the Mayor's office.
We will have this year Yazoo City's Glenwood Cemetery tour. Glenwood Cemetery was voted one of the most beautiful cemeteries in America. You will see where the witch that burned the town down is buried which is not too far from writer Willie Morris who rekindled her fame in his book, My Dog Skip. With Antique Days 2015, The witch will be in the cemetery to welcome around visitors and recant the history of some of Glenwood's great sleeping. Transportation up to the town canal and on to Glenwood will be provided.
Leo Beatty will come with his sugar cane mill to make cane syrup at Antique Days. Crushing will start at 7:00 A.M. on Oct 24th and cooking of the syrup will start at around 8:00 A.M. It will take all day to cook the syrup and you can purchase the syrup at the end of the day in pints and quarts.
Pair the fresh homemade cane syrup with Ann Taggart's homemade biscuits made on site in an antique wood burning stove and you have just taught anyone with a sweet tooth the value of the internal combustion farm engine. Grandfathers now have the chance at Antique Days to show their grandchildren how life's pleasures can be very simple.
Lyle Wynn, professional blacksmith with the Ms. Craftsman Guild will be giving demonstrations and selling his handmade items straight from his forge.
Arlon Holder and his antique gristmill will be grinding and selling cornmeal . You can buy yellow or white cornmeal from him.
Greg Harkins, Master chairmaker
Bobby Rico, Master Knife Maker
Homemade ice cream
Old hit and miss engines will be pumping water. One hit and miss engine will be hooked to two ice cream freezers and will be making homemade ice cream all that day. Also old tractors will be on display.
For more information, call 662 590-5415 or email mainantiques@cableone.net or visit www.antiquedays.com
This project is partially funded by the Yazoo County Convention & Visitors Bureau